Hi Everyone
Would appreciate the assistance - I have a very non standard setup where I moved in. A Nefit HRC30 NXT combi boiler. This supports opentherm modulation but I have 3 zones (Woonkamer, Kelder, Turin)
The current setup is
3x Honeywell VC8615 (valve actuators)
These are wired like the attached picture and in parallel and then connected directly into the oranje annsluitblokje on the boiler CV
Does anyone have any advice how I wore in my Heatlinks from the Nest system to take this system into account ?
My best guess now is:
Heat link 1 (woonkamer) wire OT1+2 to Nefit Boiler and 5,6 to the water valve for woonkamer (s-plan?)
Heat link 2 (Kelder) wire OT1+2 to Heatlink1 and 5,6 also to water valve for Kelder
Wire one cable beteeen water valve woonkamer and Kelder
Tuin maybe I can keep as is (wiring diagram below)
—- does anyone know if wiring a google nest into this setup is at all possible ?
Overview of my current system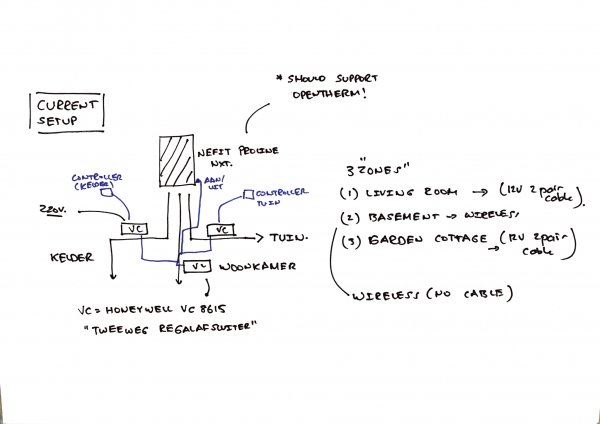 Honeywell Wiring diagram